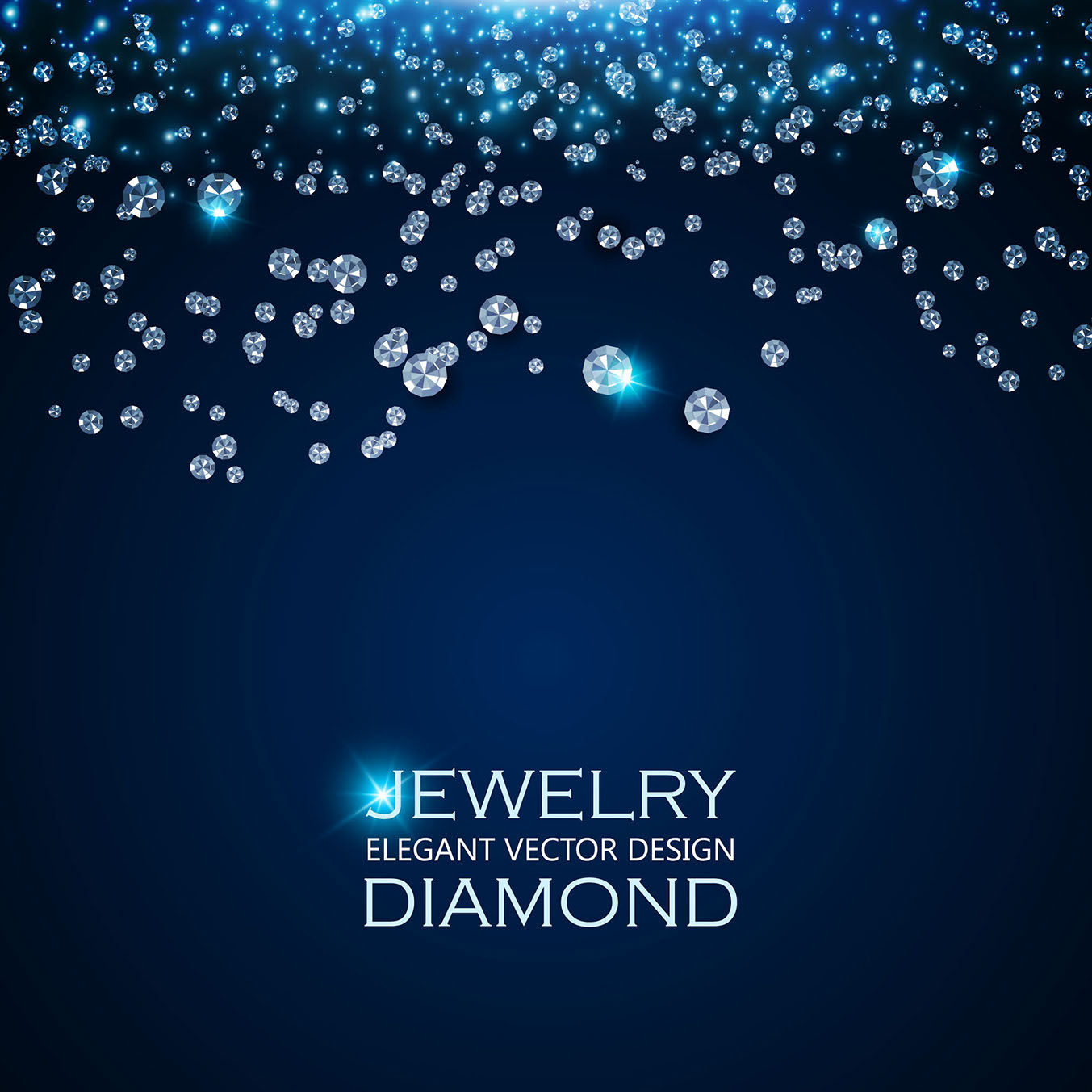 Come experience our true "old world" craftsmanship and Bling Groups' ® superior customer-service approach!
All diamonds are handset using the 4-prong, channel and invisible set methods insuring a very secure base set.
A diamond's cut will most certainly influence its fire (the lovely rainbow colors that flash from within) and brilliance (the liveliness and sparkle), as well as its perceived size and even, to some degree its apparent color. Different cuts reflect light in different angles. A diamond must be cut in a geometrically precise manner to maximize its brilliance.
Prong Setting is the most common setting for solitaire diamonds. The prong setting can have four or six prongs. For security of the diamond, six prongs are better than four. This is subjective too, four prongs may be better on a smaller diamond so as to allow as much light into the diamond as possible. Where six prongs on a larger diamond is fine as enough light will still enter the diamond. The color of the prongs will also have an effect on the diamond. Rhodium tip prongs are a light metal color and can add to the sparkle of the diamond, while gold tip prongs can take away sparkle from the diamond. The prong set diamond best enhances the sparkle of the diamond.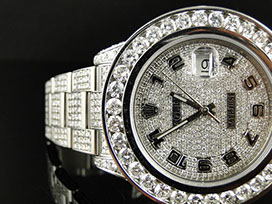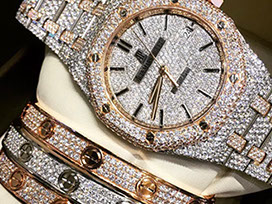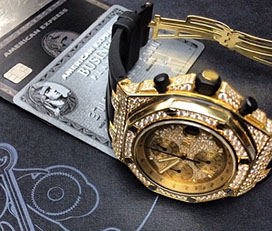 Bling Group® is a full service jewelry business specializing in complete CUSTOM designs. Whether you desire a diamond cross/pendant, diamond earrings, loose diamonds, diamond necklace/chain or bracelet, Bling Group® will help you stand out in a crowd! If you see a watch or any other piece of jewelry being worn by one of your favorite entertainers in the music or film industry or by someone you have met in your day-to-day life, chances are Bling Group® has it or has access to it! Won't you allow Bling Group® to earn your trust and business? You'll be glad you did.
All custom hand set masterpiece works of art! Some items are one-of-a-kind diamond timepiece creations! Designs NOT offered by any other company. Peace of mind knowing that your timepiece is authentic.
At Bling Group® we offer an amazing array of custom handset diamond timepieces.
Featuring a list of the watch industries most sought after Swiss-Made timepieces! If you already own a beautiful timepiece and would like to add diamonds to it, we can do that too! We also offer diamond pendants, crosses, diamond bezels and EVERYTHING that BLINGS!
Bling Group® is your number one source for premium brand diamond watches at discounted prices. Our professional and dedicated Bling Group® staff has been setting the standard in diamond setting for years. We have created a distinguished reputation for premium quality service. Customer satisfaction is our #1 goal here at Bling Group®!